Frequently Asked Question!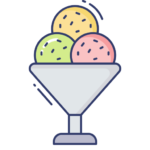 The most up-to-date ingredient and nutritional information can be found on our packaging or on our product page. For more information on each of our products, or for any specific questions, please call our customer Careline on 519-350-6390
Currently, our only lactose-free product is our Sorbet
We offer a variety of tasty treats specially created with our health-conscious customers in mind. We have Vanilla Lite Ice Cream, which is a No Sugar Added, Reduced Fat ice cream, and multiple sorbets and yogurts.